While looking at the TSRM, I noticed it says we need to level the suspension arm before removing and installing the CV joint.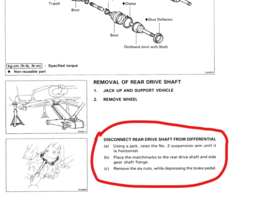 What is the reason for this ? Also I made the mistake of not making a mark on the CV joint to the differential side gear flange when I removed the diff. Is this really a must, or it doesn't really matter, as long as i get the 3 clover leaf pattern end to go in the diff side gear properly ?
lastly, it just says tighten the main nut to 275Nm, so there is no need to do a shimmy shake test like the front bearings? Just torque and forget ?