Hello everyone!
I'm Fulvio from italy, nice to meet everyone of you. I'll present myself with this post, this is my car: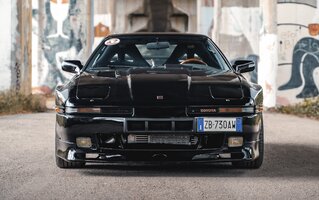 Engine is a 7m with 210.000kms, we've done a fine rebuild, forged internals (Arias pistons), stock cams, stock rods, acl bearings, trimetallic gaskets, arp studs etc...
The car runs extremely well, we made a tune with an ecumaster emu v3, actually at low boost (0.9 peak)
Problem is after a cold start, if idling for a bit, or in traffic, it start to randomly burns drops of oil. We've checked through the spark plugs holes with a cam and everythings look fine. I do not understand why this is happening. Head, block, everything was made as new.
Only thing i'm suspecting, having a driftmotion exhaust manifolds, with their hks replica wastegate that's mounted upside down...may be that some accumulation is made in there?
Open to suggestions, thanks all!