So I decided to make a build thread for this car instead of on my old cars thread.
this is my old thread
http://www.supramania.com/forums/sh...eSS-s-Supra-Engine-rebuild-and-Supra-clean-up
!
My new car
1992 Turbo Targa
This post was started January 29, 2013
I got my 92 for $1250 all stock had bhg. I had been looking forever for another soup but couldnt find one cheap enough I could afford and turbo 5spd targa, and settled on an rx7. well about 2 weeks owning the rx7 I decided to look on craigs just for fun and there it was. I couldnt believe it after about 2 years of looking, i finally quit and there it was. So I gathered up the money and the trailer and got it, now the rx7 is sitting in pieces while I work on the soup instead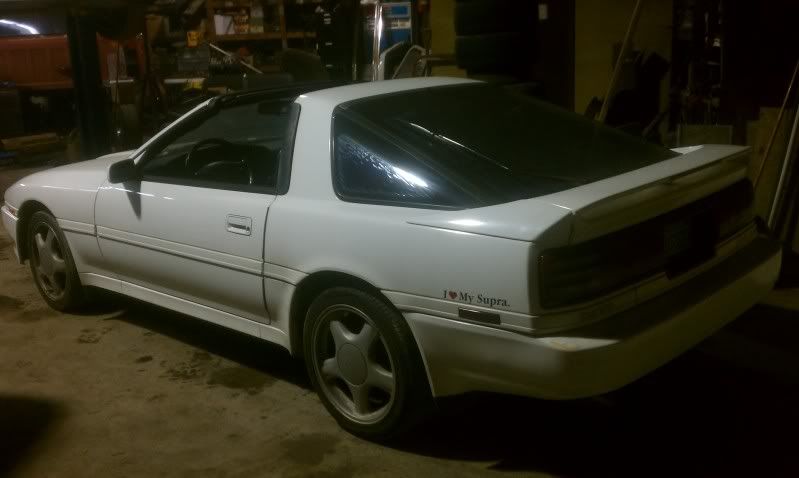 Well new car = TURD! Oh well pretty much everything I buy is a TURD. Glad I got the know how, hook ups, and all the utilities to do it.
Original intentions were to pull the motor freshen it up if it needed it (high mileage) and fix the BHG with a little extras here and there and alot alot alot of cleaning, painting and whatever else needed to be replaced. But its turning out to be a complete engine build.
IT had a slight rattle above 2800 rpm that was dependant on load and it would quit above a certain rpm. I just figured it needed a valve lash. Boy was I wrong when I drained the oil.
This is a slight rattle. not even that noticeable.
Thank GOD for forged cranks, and thank TOYOTA for using them. I can just get away with a first size under cut crank and oversized bearings, if this was a cast crank, it would be a total crank replacement.
So New bearings and crank going to machine shop, rods resized also.
Now Mic the bores, mic the pistons, and determine if they need to be replaced and oversized as well (I still have my .020s from the last build)
Have the block deck surfaced, and it vatted.
Head will get surfaced, valve job, new seals, and a valve lash. maybe some port clean up if I feel up to it.
yay all this dookie and Ill have a nice motor in a turd of a car
Measured my head today, it is 115.75MM so I am going to order the 0.075" cometic HG because Im also sending the block to get decked.
Head is getting checked for flatness and surfaced if it needs it and a valve job....
Also found that ford bronco 4.9L engine mounts will work in place of the expensive toyota ones.
I got a picture Ill post up tonite of them next to each other. The bronco one was $30 and instock at advance auto.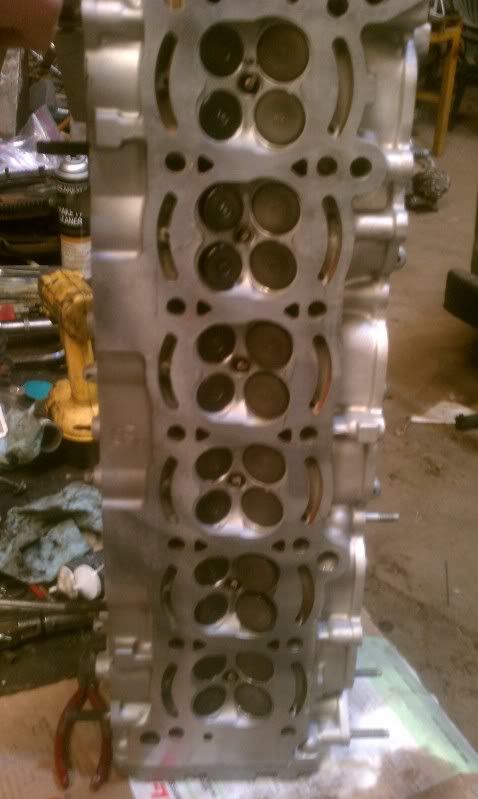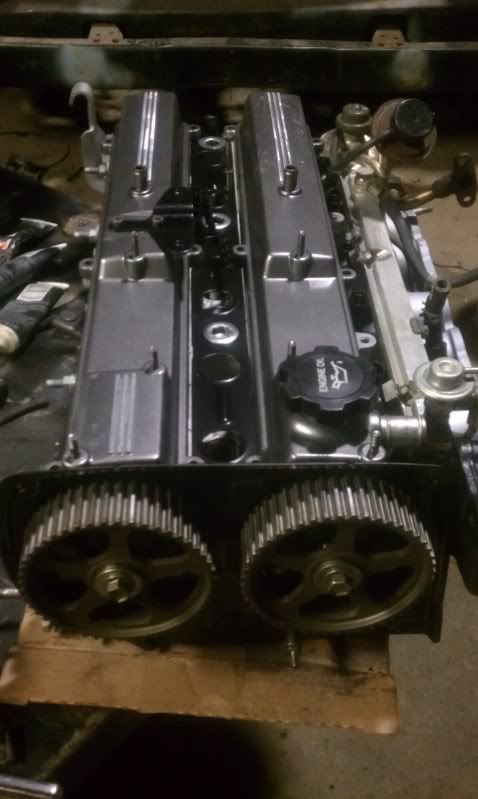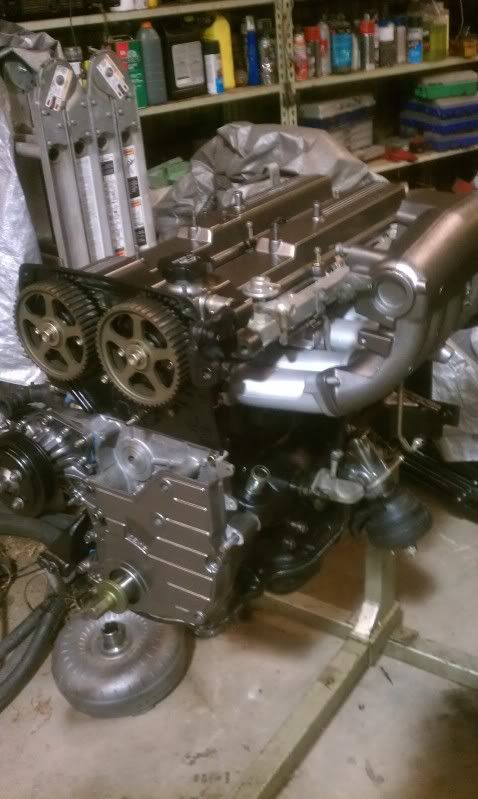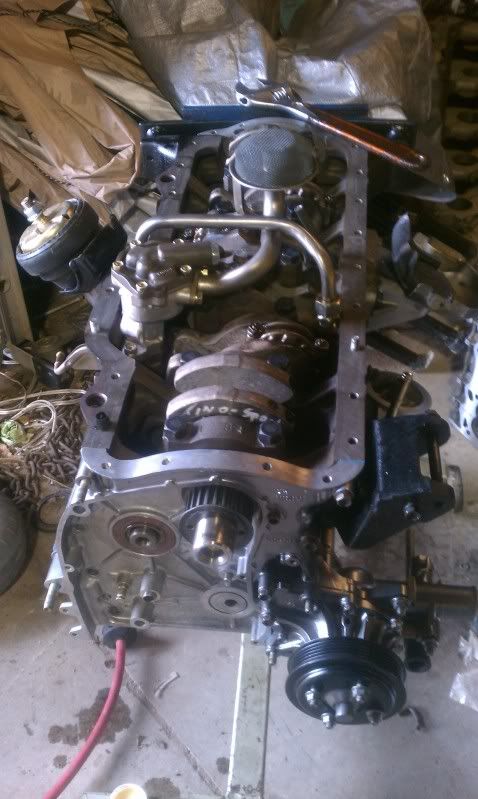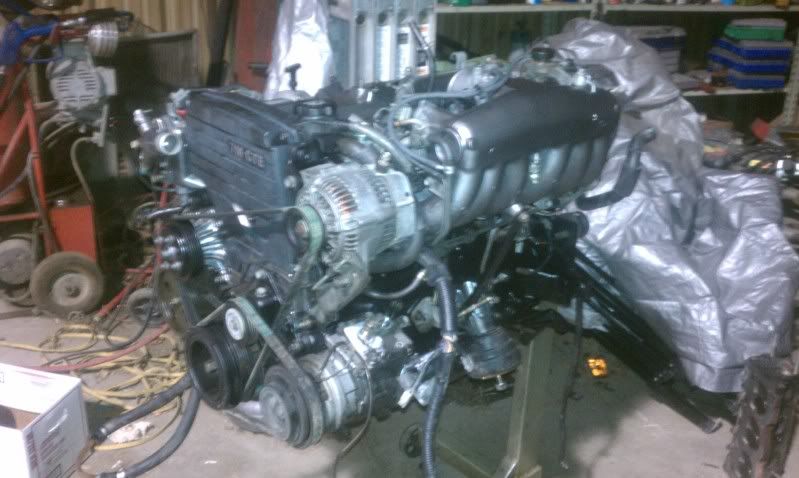 OK so engine is in and running great. I am amazed at how smooth it runs, I think it idles smoother than my lexus. Power is decent still at stock boost levels. Put about 150 miles on it so far and the starter killed over. So I changed out the starter and did my first oil change. Also trying to get this nasty tint off, I am just not having a good time with it. So I pulled the hatch and am trying some other things before I damage the defroster lines.
Also changed the scary scary ball joints, now im a little more confident to drive it. Now to order some slotted rotors to get rid of the warped ones.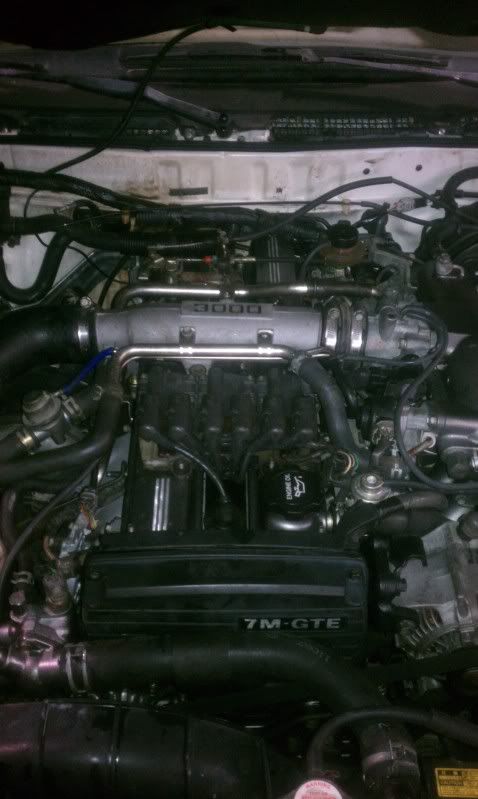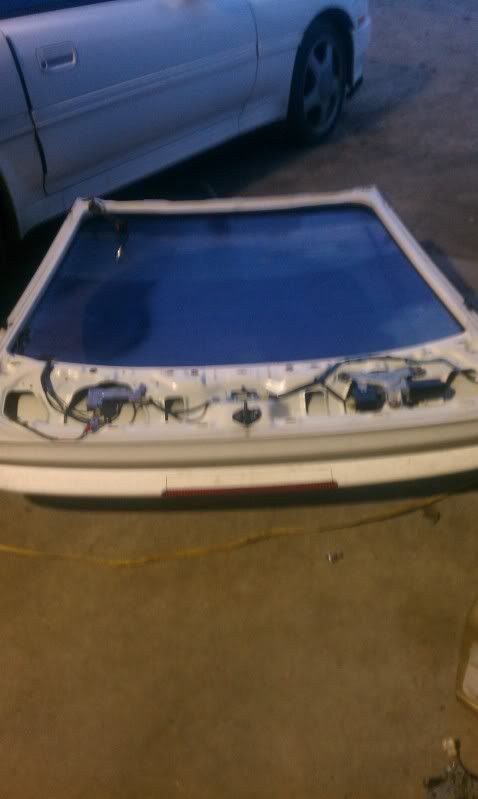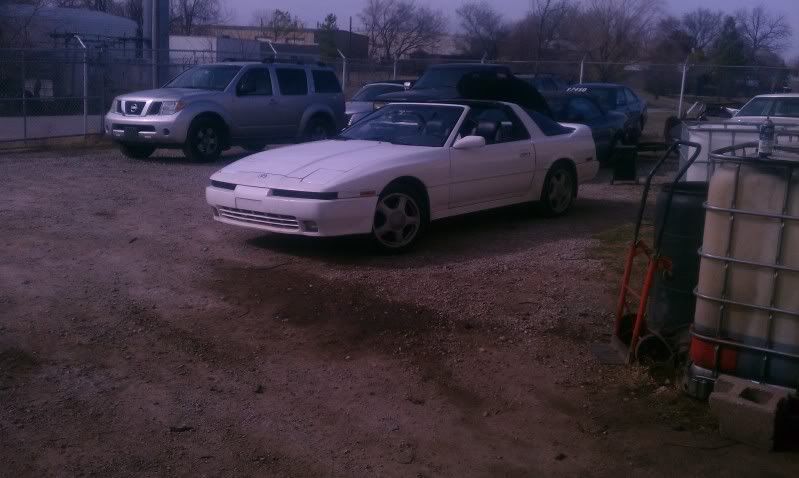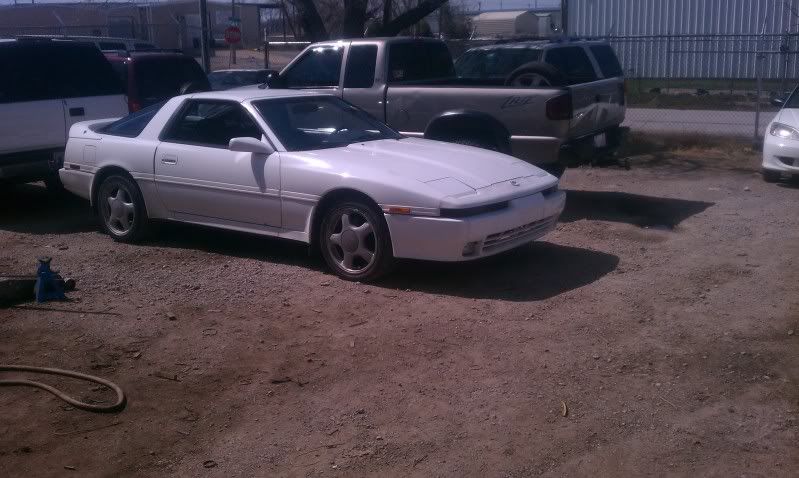 I got a BIC widemouth 3" dp installed. This pic is when I got it, I had it ceramic coated black before I installed it.
I also got a 57 trim turbo for it, needs rebuild and found a local diesel place that will do it.
it has a polished compressor housing.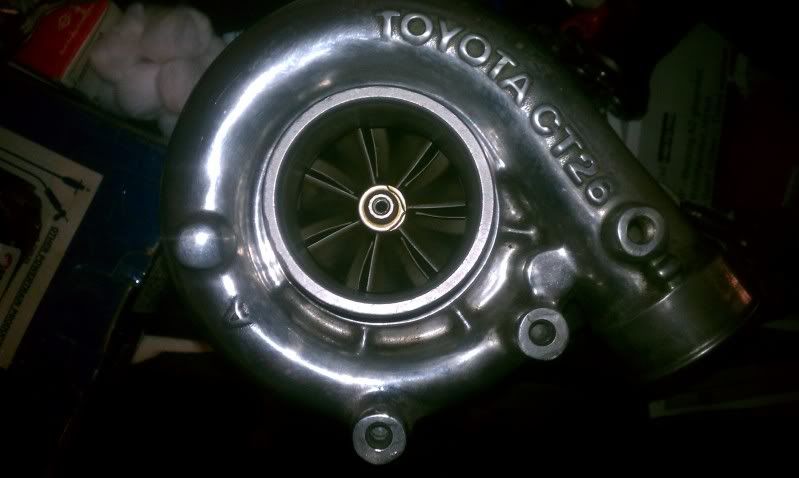 New black zinc slotted rotors for it front and rear from ABT on ebay. Hope they work out just fine didnt want to get cheap drilled rotor due to cracking. Also will be installing wagner thermoquiet ceramic pads all the way around.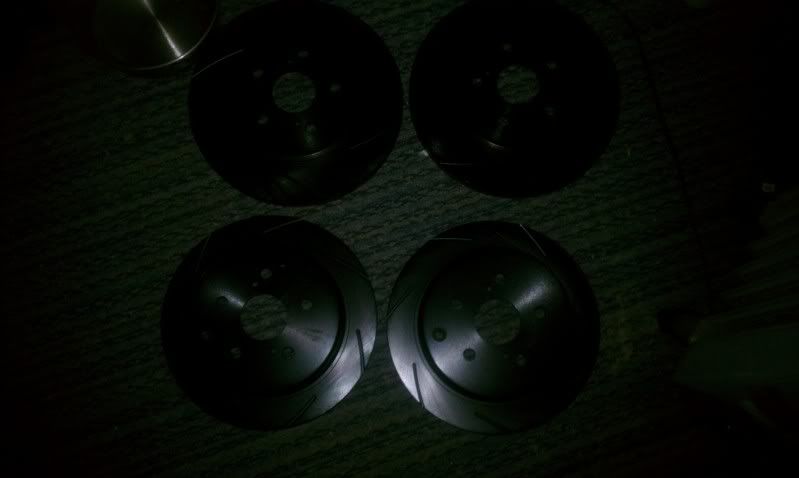 I ran against one of my buddies, he has a monte carlo with a mild built 350, 305 heads with big valves and 280H cam, 3.73s th350 trans ect. His runs good for a cheap thrown together motor from spare parts we had. But I think I embarrassed him with I started pulling on him. running about 7-8psi in first around 11-12 psi 2nd and occasionally hitting fuel cut in 3rd. First time I ran the car that hard and was impressed with it until I hit the brakes at 120mph. Then I got nervous from the warped ass brakes
Worked all day on her today and kicked my ass. I spent hours swapping the PS hose and the new hose leaked. Not happy and its not easy to change that thing anyways. And I get to do it again. Then decided to swap out my brakes and springs. Started on the front, everyone of the caliper sliders were rusted seized up, I worked for hours getting them unstuck, then sanding them, polishing them and then greasing em all up. What a PITA, the brake pads were only worn on the inside from this. New ceramic pads installed and the slotted rotors.
I also installed the lotek lowering springs on the front. drivers side was easy, passengers side I ended up having to pull the washer bottle and inner fender liner to get the control arm bolt out.
Still have to do the rear brakes and springs. not looking forward to it and my PS hose wont be here till tuesday.
Got the PS hose changed. Also got the lotek springs and installed them
The front is a little lower than I would like. Trying to figure out some way to put a spacer between the spring and strut mount.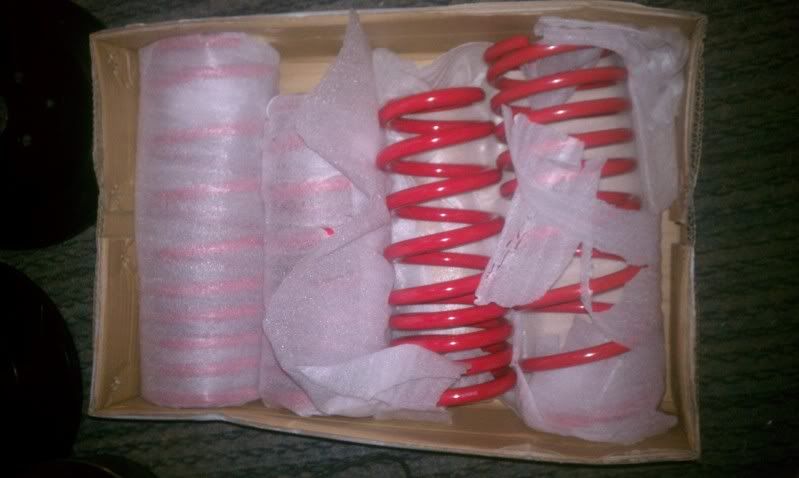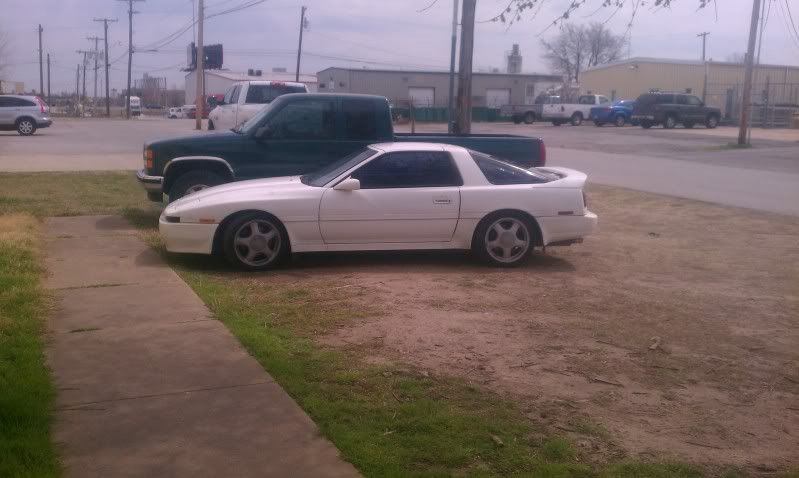 Also found this neat cup holder/storage tray. Its from a nissan maxima and is a single din size. I put it in with this shitty JVC for now. Works and the shifter is in 3rd. Plenty of room. Just cant change the radio station easily with it.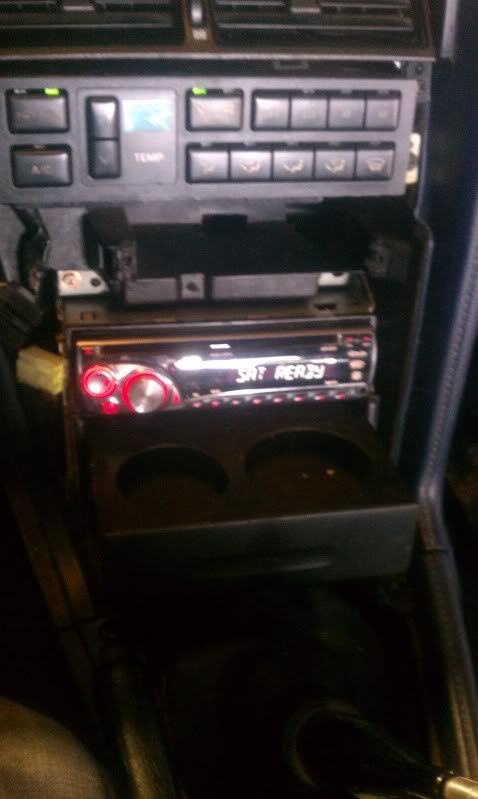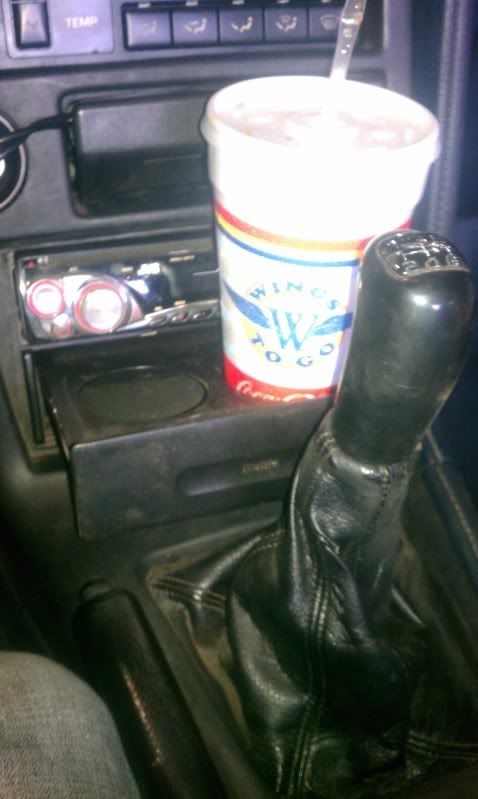 Recent pic of her. Havent put many miles on it yet. maybe close to 600. Had a heater hose start leaking (the only one I didnt replace) and its the one that comes from the pipe at the back of the head and up to the firewall behind the intake. I couldnt find a molded hose local so I just put a straight 5/8" hose on it and that solved my problem with disappearing antifreeze.
after I get it tagged im ordering seat covers and redoing all the tint on the side windows. Already replace the radio again with a kenwood. and new pioneer 3.5" speakers in the mids. I got a new ebrake and shifter boot coming from empera (if the PO would cooperate) and I also need to find a new blue dash. If I get a place to do it, im gonna start fixing the dents and a respray since the paint is just falling off the bumpers.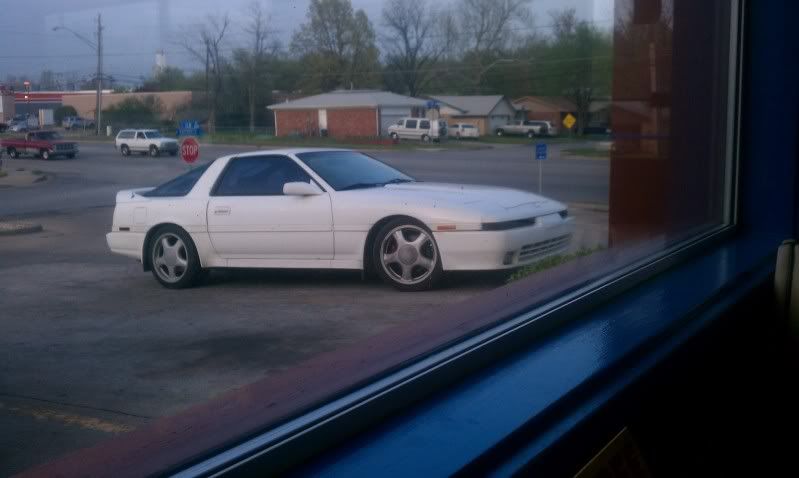 New wheels 18x8 and 18x9 both +35 offset
New shifter and ebrake boots made by EMPERA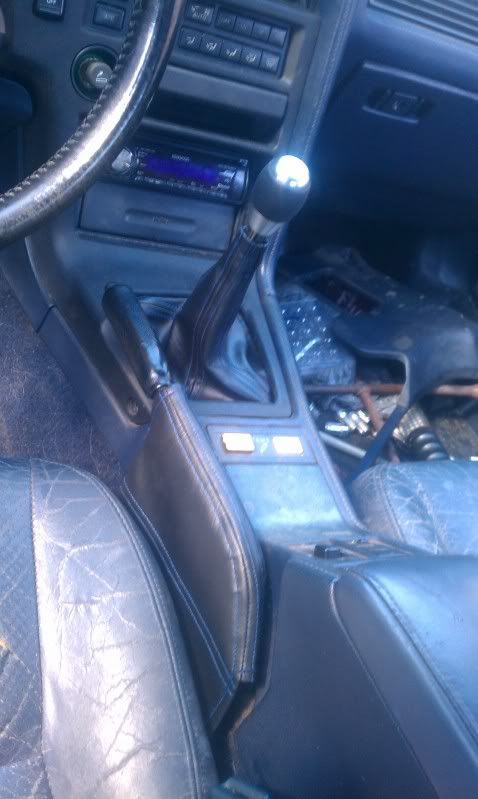 Well the last heater hose that I havent replaced finally blew the other night. Guess thats a lesson learned, replace all the hoses. Never got hot as I started smelling coolant and pulled over before it lost too much.
But I picked up some new parts for her....
Lexus AFM
Stainless braided brake lines
walbro 255 pump
egr block off plates
one piece steel driveshaft from the drive shaft shop
New intake accordian boot with K&N and factory AFM
NGK plug wires
Cheap MBC
Thats it for now. havent installed any of it but I will as soon as I got some time to put into it. I have to get my chevelle back together for the drags im scheduled to race at in october. So I will be spending money and time on it for a while.
Finally got the purple bubbly tint off the little windows and sealed up the tail lights. Not a fun job at all. New tint is on too.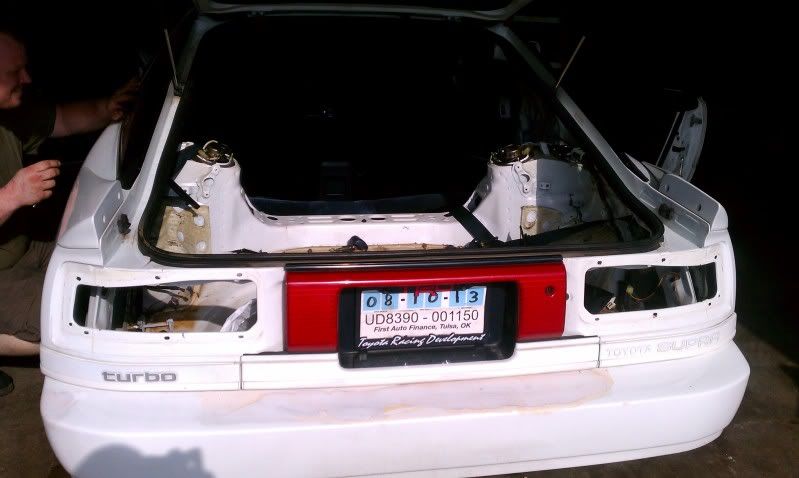 Well been doing a little work here and there to it. Finished my gauge pack other than needing to make a new face for the boost gauge since I did the mod to make it read up to 14psi. Letters light up white.
Pulled the front bumper and rear bumper for paint and to install the ARC SMIC and CX racing Intercooler pipes.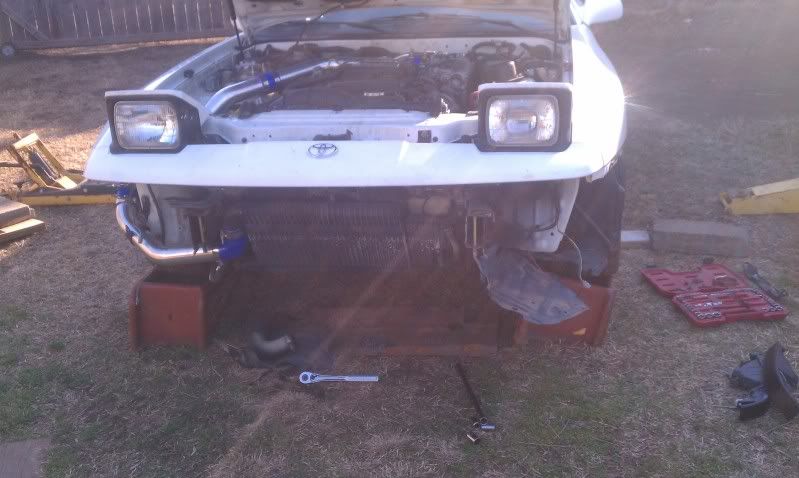 Also Got a cool pic at work of all the boosted cars,
From left to right
My buddies 1987 Conquest TSI
My 1989 RX7 Turbo II
My 1992 Supra
My brothers 91 Z28 383 procharged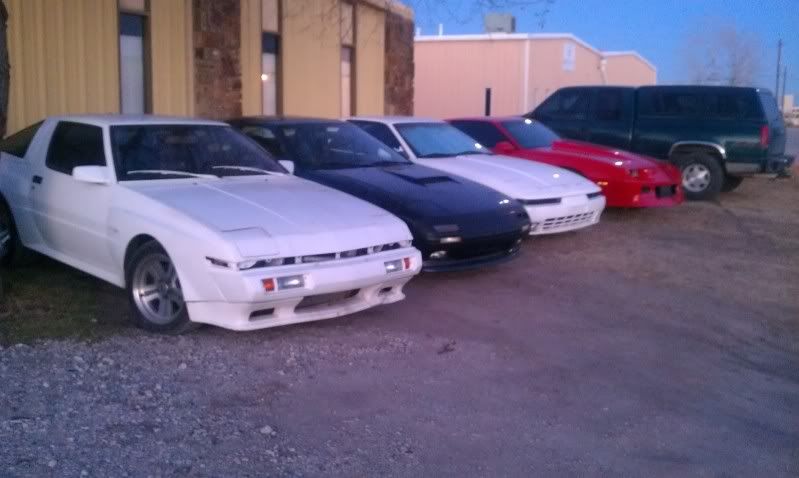 Last edited: