Jul 16, 2006
3,171
12
38
35
Now that the forum is back, and I have moved onto my 2nd shell I feel it is time to post this.
I picked up this shell
5.5 years ago and have been moving things over from my white 89.
Here is the 1jz/holset swapped in:
Updated with new turbo: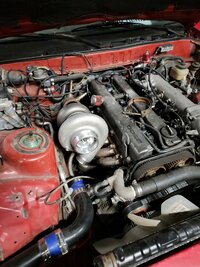 Artsy Shot: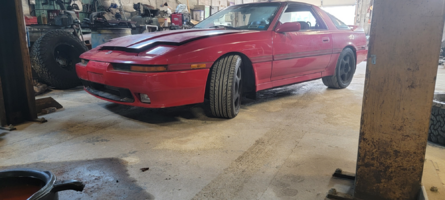 Current build list for my 1991 turbo targa sport package:
Chassis and body:
Tein coilovers
S600 front bbk
evo/sti rear bbk
ST Sway Bars
Adjustable end links
Shine S2 Airguide
MKIV TT Wheels (currently an ET Street in the back, but will be changing)
Engine:
1jz
XSPower T3 manifold
Borg Warner s300sxe 63/68 turbo (.82 t3 housing)
HK$ 40mm wastegate (16psi spring)
MKIV 550cc injectors + resistor
Greddy type RS BOV
ECUMaster Standalone (including boost control)
A1000 Regulator
Aeromotive Stealth 340 pump
13v mod
MKIV AC Compressor (r134 converted)
MKIV water pump
Transmission:
R154
Spec Stage 2+ Clutch
NM V3 shifter
Interior:[/URL]
Celica GTS Steering Wheel
All new black carpet
Corbeau Seats
Future Plans:
Cams (bc264), larger injectors (probably 1000ccs), RFP1s, Spec stage 3+ disk, paint and a professional tune.
Last edited: