My A/C compressor is no longer installed, so I am just trying to eliminate any oddball items I might be missing. But if this can trigger a code 51, how do you go about addressing that? Once this question is answered I can continue on with the root cause of this code, but for right now I would just like to focus on this particular interaction.
Just so it is stated, the TPS has been replaced. The TPS has been calibrated at least twice per the TSRM with no change. I've replaced the TPS connector and some fresh wire close to that connector. To finish ruling out the wiring to the TPS I'm going to create jumper wires straight to the ecu, and that will rule out the stock harness wiring be faulty.
The other situation that makes this a little more challenging is that is an auto to manual converted car, with an auto ecu. I'm thinking the ecu not receiving the "NSW" signal is also a possibility because of the manual conversion.
Lastly, I've swapped the ecu out and still had the same problem, so I can rule that out as well.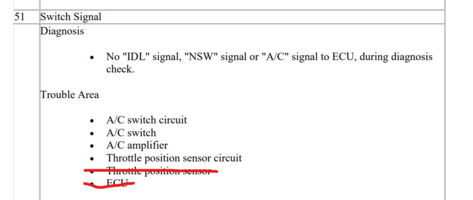 As I look at my snippet, it is telling me that if I can identify which of those three signals I am not getting at the ecu connectors that will direct me more to where I want to look, correct? If so, are those 5V signals I should be able to pick up on a DVOM?
Also, I am rocking the 7MGTE and my baby is a 1987 HT. I feel that needed to be mentioned.