Hello everyone, you may know me as Matt Bailey from the Facebook groups, but my name is Bailey and I am one of the two owners of Function. You've likely never heard of us but we are sure to change that soon.
My partner Nick (not Piratetip, though he is also local) and I started up this shop in Sheboygan, WI, with the goal of being able to repair and maintain 80's and 90's Japanese cars, as these cars are our interest and our passions.
Not but 5 years ago (2017) did I only then just learn of what a Supra was. At the time, I had never turned a wrench, never changed oil, never watched FnF to know what a Paul Walker was. It wasn't until I was 17 and knowing I needed a car, that I came across my 1987 N/A auto Mk3. Obviously this isn't the most desirable of the chassis, however from being completely unseasoned and lacking in knowledge, it struck me as the coolest thing I'd ever seen (and can you really blame me?) I started doing my research and thanks to those of you here and in the Supraforums was I able to gain an immense amount of knowledge on the chassis and learn of the millions I had to spend! In 2019 I finally had enough to purchase my Supra. Now of course what I learned though the internet wasn't nearly enough to go starting my own shop, so what next?
Before I purchased the Supra I bought myself a 1990 Subaru Loyale. A naturally-aspirated 1.8L boxer-engine-powered station wagon with a 5 speed manual transmission. Now with this car I could talk for hours about the work I've done, but I'll save you some trouble and link you to it's instagram where you can look at the pretty pictures @fl4tloyale. To save the effort, I refreshed and swapped in a turbocharged motor, including the engine and dash harnesses, as well as notching the subframe for the charge pipes and installing new power steering lines to fit. This car has taught me more than I ever intended to learn.
My partner Nick has also fully refreshed his 3rd Gen Honda prelude from pistons and rods to valve guides in the head. You've probably seen it, as it's pink.
Now I know this is a lot of reading, though mind you I'm leaving a ton out so as to not bore or ramble, and perhaps not a true testament to our abilities. So to some we may seem like fools, but I can guarantee you where we lack experience and formal education, we excel in determination, mechanical aptitude and intuition, and our ever-growing passion for working on these cars. Our whole basis is true functionality and proper solutions, over the hackjob fixes, to simply say you have a car, and to exhibit the form. Hence function over form.
When the community of the older vehicles locally have issues with their cars they turn to me, and I solve them. So far I have a 100% success rate and while I know that's not to last, it's something I am proud of and hope is a show of the shops capability.
If anyone is a Wisconsin local and is needing any work done to their Supra or other 80's-90's Japanese car, be it big or small, shoot me a message and I will more than happily assist. I'm reasonable and very aware of our capabilities, as well as how we come across. We do it for ourselves and to help others.
I will perhaps make a thread more in depth on my Supra or other builds from the shop so long as there is interest, but as our shop continues to grow, I wanted to introduce myself as the entity, not so much the personal.
You can reach us through our Facebook page Function Garage, my personal account, our instagram page's @functionllc @fl4tloyale @prelewd_ , or my number (920)9172519.
Here are some of the cars we have at the shop, including my Supra.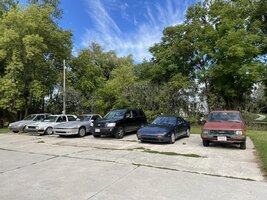 ---
Even stationary, it has the power to move you.