It's common practice to remove the Hydrofan system on the 1jz engine & install the 2jz pump & some sort of electric fan arrangement.
This aims to explain this completely with a definitive answer.
Water pumps are prone to shaft seals drying out particularly during a build or when the engines stood for a while with no fluids. Sadly, this leak usually turns up when you first run the car with all your new fluids - joy!
The part you will need is the 2jz water pump assembly, personally I highly recommend you buy the entire kit from Toyota as the kit is so very complete, is guaranteed to fit & comes with everything you need, it's not a bad price either.
2jz water pump assembly: 16100-49847 £115.00. (April 2010)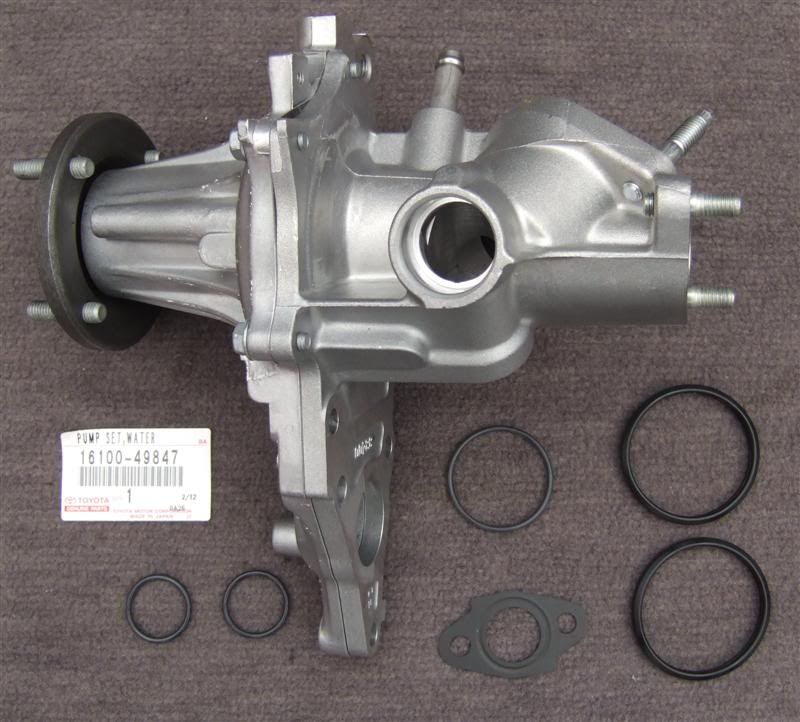 You will also require a 2jz water pump pulley & the 4 bolts which hold it in place.
2jz water pump pulley: 16371-46020 £72.00

Nuts for pulley (need 4) 90179-08201 £?
Now you may want to search Ebay for an under drive pulley set & use some of the pulleys from that set - it works out cheaper than the toyota kit & you get 4 pulleys for the price of 1.
Search for: "ORG SUPRA JZA80 LEXUS CS300 SC300 JZS147 Light Pulley" Or similar.
I do not recommend you actually install the crank under drive pulleys to this engine.
The other parts I would also recommend you get due to them being disturbed are:
Water outlet housing gasket: 16343-88400 £0.95 (April 2010)

Turbo inlet gasket: 17376-88400 £2.00 (Approx)

Front crank seal: 90311-46001 £16.30 (April 2010)
May as well replace while timing gears out.
To remove the hydrofan pump assembly you will need to:
DISCONNECT THE BATTERY
Drain Coolant system.
Drain hydrofan fluid.
Remove radiator & hydrofan with cowling.
Remove hydrofan reservoir & interconnecting pipes.
Unplug & peel back wiring from water temp sensors, alternator regulator, OX sens, PS sol.
Remove the Ancillary belt.
DO NOT LET THE ANCILLARY BELT TENSIONER SNAP BACK - IT CAN DAMAGE THE HOUSING
Removing the alternator.
Remove the lower radiator hose from pump housing.
Remove the 2 bolts attaching the metal engine coolant pipe to the rear pump housing.
Remove the 2 bolts holding the top water outlet pipe to block - this is best done by removing the front turbo inlet pipe bolts so you can move the pipe out the way to get to the water outlet bolts. The water outlet pipe then lifts off the top of the pump.
Remove the crank pulley, timing covers, ancillary belt tensioner, cam belt tensioner & tensioner wheel & Cam belt.
Remove the 6 bolts holding the water pump onto the block - note where they came from as 4 are different.
Remove the water pump.
You should now have the horrible oil filled hydrofan unit out the car! (impeller is missing from this one)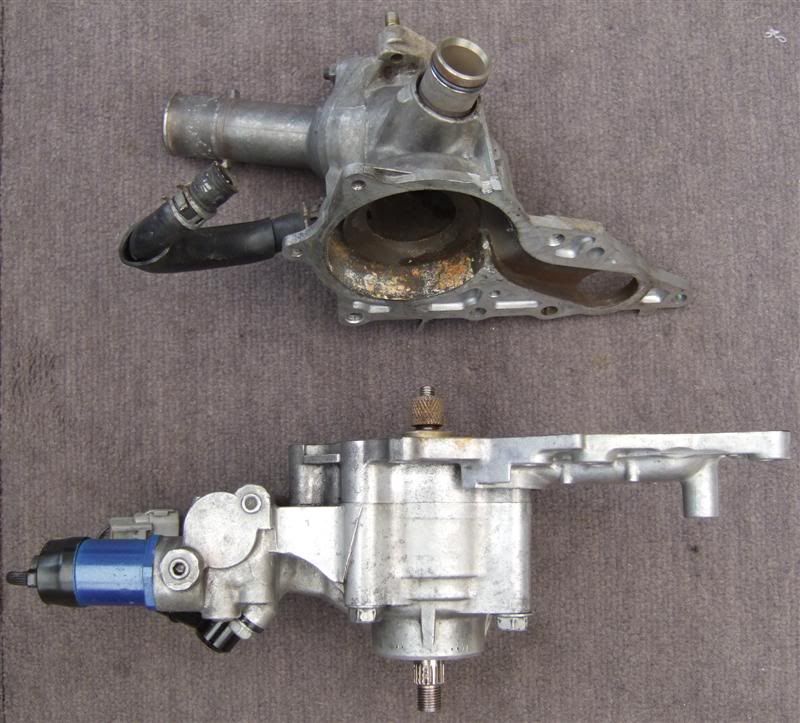 You will need to swap over the link pipe from the top of your old pump & install it into your 2jz pump. replace the 2 orings (supplied with toyota pump)
Clean up the oring sealing surface on block & install the oring, Vaseline will help keep it in place while fitting new pump.
Install the water bypass pipe gasket to the studs & install the water pump. The correct bolt sequence & torques are
HERE PAGE CO-11
Install nuts for water bypass pipe, Tq 15 FT/LB
Install new stat gasket (supplied with toyota kit) Install stat, Tq 15ft/lb
Install water outlet pipe & new gasket (16343-88400) Install bolts, Tq 15ft/lb. Be sure the gasket seats properly against block - it is a fiddle.
Install new turbo inlet gasket & 2 bolts, Tq 15ft/lb
Install timing gear, Follow steps
HERE FROM PAGE EM-20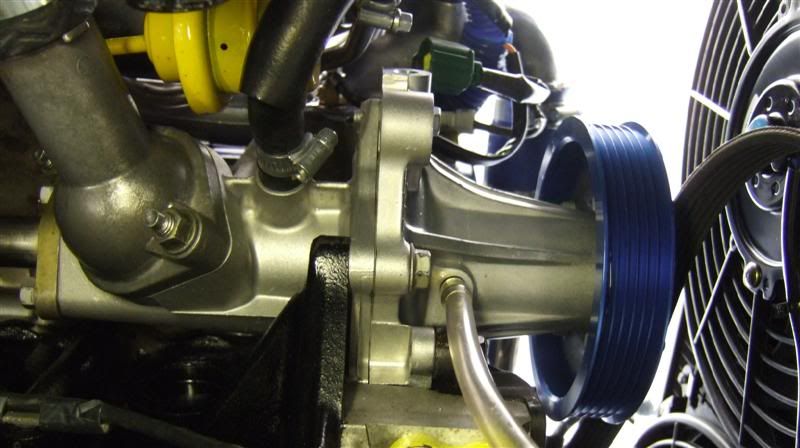 Install Ancillary belt tensioner, Tq 15ft/lb
Install top timing cover.
Install water pump pulley bolts x 4, Tq 12ft/lb
Install alternator, nut & bolt, Tq 30ft/lb.
Install ancillary belt.
Reconnect wiring.
That's it to swap the actual pump over.
You will obviously need to install some electric fans, 2x 12" fit well. How you control these & wire them is up to you. I will cover how I modified the system in another thread.
The space saving is vast over the hydrofan system that fouls up against all the running gear etc, particularly with performance rads!
If you alternator got a soaking I would advise you rinse this with clean water & dry it out with compressed air or in an oven at 50'c for a while. personally I stripped mine down again to remove all traces of coolant. The 2j pump has a pipe nipple so you can pop a bit of tube on this & bring it down past the alternator to prevent future soakings if the shaft seal should go again.
Hope this helps, Stuey @ Supradupra.com