Member
Authorized Seller
Contributor
Joined

Sep 1, 2006
Messages

840
Likes

0
Location
Hi guys! :wavey:
Finally I took the car to the dyno today with the new CEA billet 6766 turbo setup
Many thanks to Alpha for the turbo purchase and it's preparation (heat coated etc.),
and also for it's fast shipping across the Atlantic
The dyno is a MAHA LPS 3000PKW roller type and is made in Germany.
It measures only Engine HP and no WHP. It is consider very consistent dyno and a strict one. It can measure up to 1500 HP...
Here is a photo:
My setup :
-----------
Stock 2jz block (130k miles) with only a pair of 264 HKS cams
-PT6766 CEA Billet JB version with a divided 1.0 A/R
-HKS GT T4 divided exh. manifold & HKS GTII 60mm WG
-4'' DP, 4'' MP, 4'' HKS Ti cat back
-3.5'' Three Row Intercooler with 3'' pipping all around
-Twin 340lt/h Aeromotive Stealth pumps
-Aeromotive FPR
-Twin -6AN feed lines and stock return line
-Twin entry Sard fuel rail
-ID 1000cc fuel injectors
-AEM V.1 ecu
-HKS DLI2
-AEM UEGO Wideband
-AVC-R Boost controller
-Defi link display with everything on
-Stock R154 trans,Driveshaft,3.73 Differential and drivetrain in general....but with an
ACT HD clutch and a full face HPF Feramic disk along with a JUN chromolly flywheel.
-18'' wheels with 275-35/18'' at the back.
Here are some pictures of the dyno day with my car :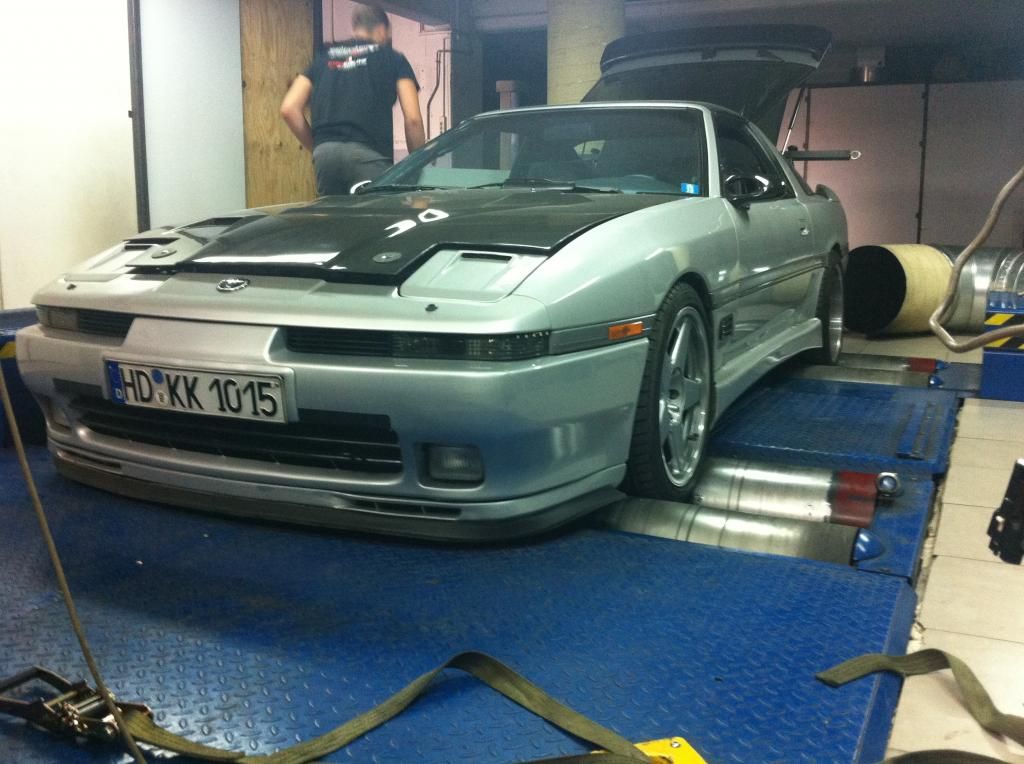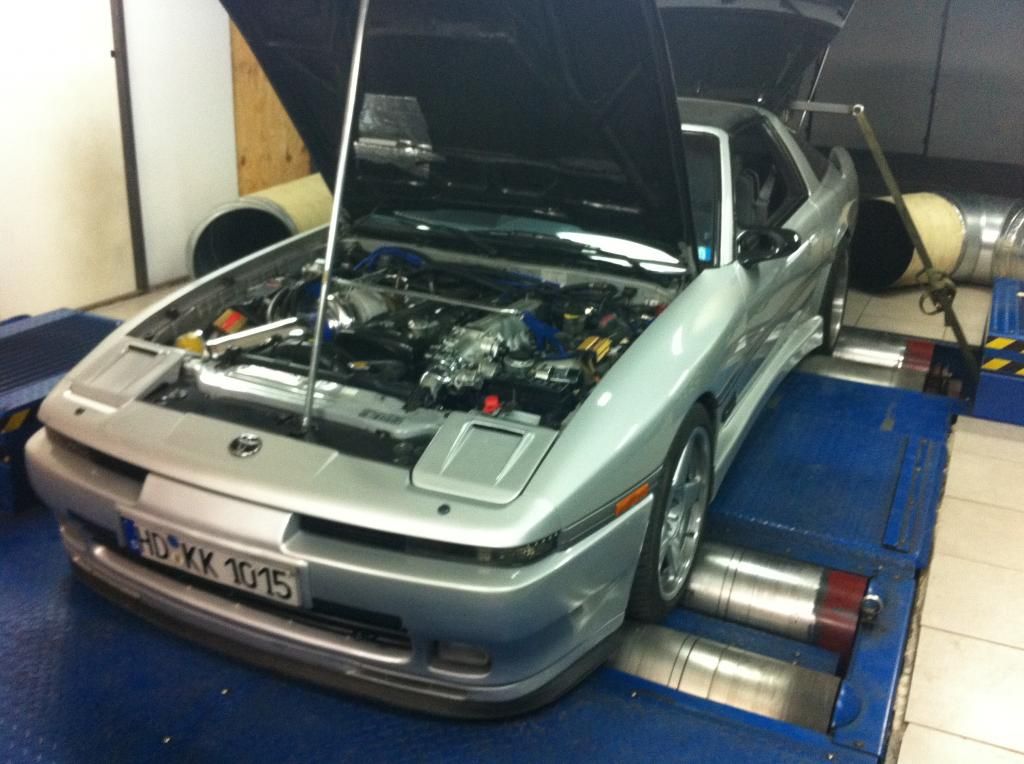 OK....Enough with the pictures and lets get to the dyno part!
Car has a conservative tuning as far as timing and runs on the 'rich' side.
Full boost on the upper revs and the wideband goes 10.9-11.0 AFR.
And today was damn hot with around 32' Celcious (90' F), on the dyno sheets
you are gonna see the ambient temperatures for reference.
Both pulls were made in 4th gear which is a 1:1 gear on the R154 transmission.
Pump gas was used (98 RON), no meth, no race fuel,no enything.....just Shell V-power pump gas which is available here in Europe.
1st pull 18 psi (1.3 bar) boost and the car made 575 HP / 631 Nm (465 lbs) of torque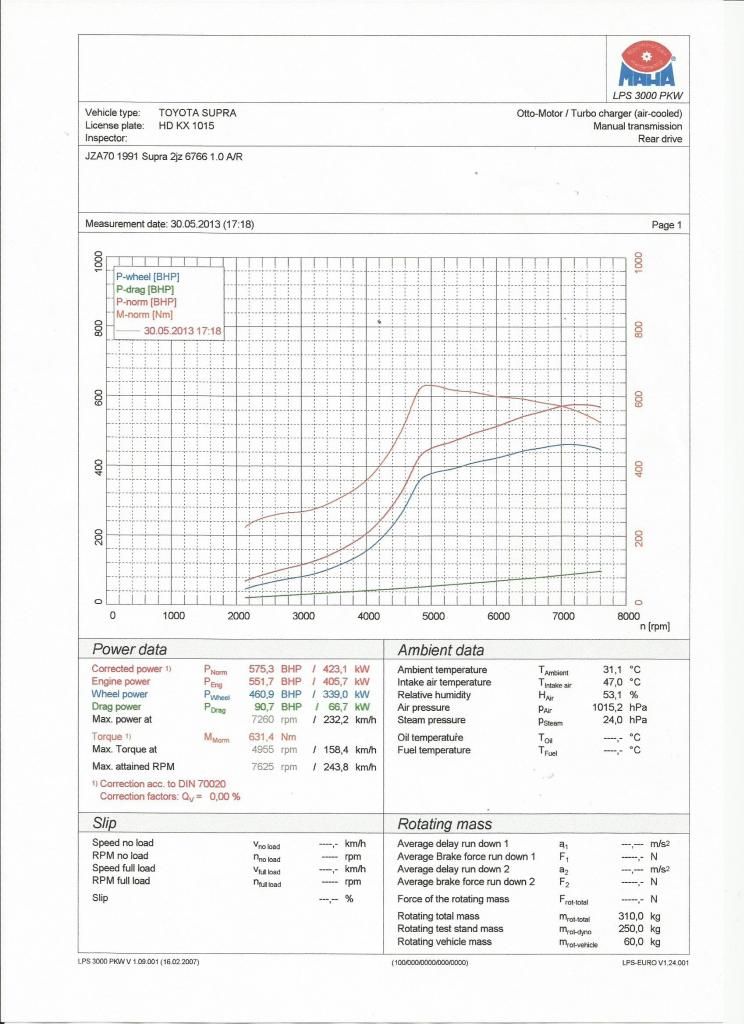 2nd pull 24 psi (1.7 bar) boost and the car made 643 HP / 657 Nm (484 lbs) of torque
Here is a dyno chart sheet that has both pulls 18psi and 24psi
The Aftermath :
-Car pulls nice. The curve line looks good,no ups and downs and pulls strong.
-I am amazed how the hell the power climbs and climbs till almost the redline :scratch:
-Also , I thought I should have seen much more torque on the 2nd pull at 24 psi vs the
18psi 1st pull but it did only go up 20 lbs of torque.
And last, I think I should have seen around 700 engine HP at the 24-25 psi range...
but..anyway ,we can't have it all. In general I am pleased. The guys at the dyno
said to me that the motor sounds amazing, did the job effortless and smoothly.
They liked the power/torque curve,and they also mentioned that my car on a dynojet
should give around 700 HP (at the flywheel) easily
Anyway , I think that all in all the 6766 is a great turbo !
Here are some videos :
(Please change the resolution in HD if it's not already,and wait for the 2nd video to get uploaded in a couple minutes,thanks)
1st pull - 18 psi
[video=youtube;-sEwV79v3D8]http://www.youtube.com/watch?v=-sEwV79v3D8&feature=youtu.be[/video]
2nd pull - 24 psi
[video=youtube;HUf_tEV4ghM]http://www.youtube.com/watch?v=HUf_tEV4ghM&feature=youtu.be[/video]